Discover more from Dispatches from Chuck
A semi-regular newsletter from a hirsute Classicist
CHUCKTOWN COOKS: Sweet and spicy meatballs edition
Let's get our hands dirty.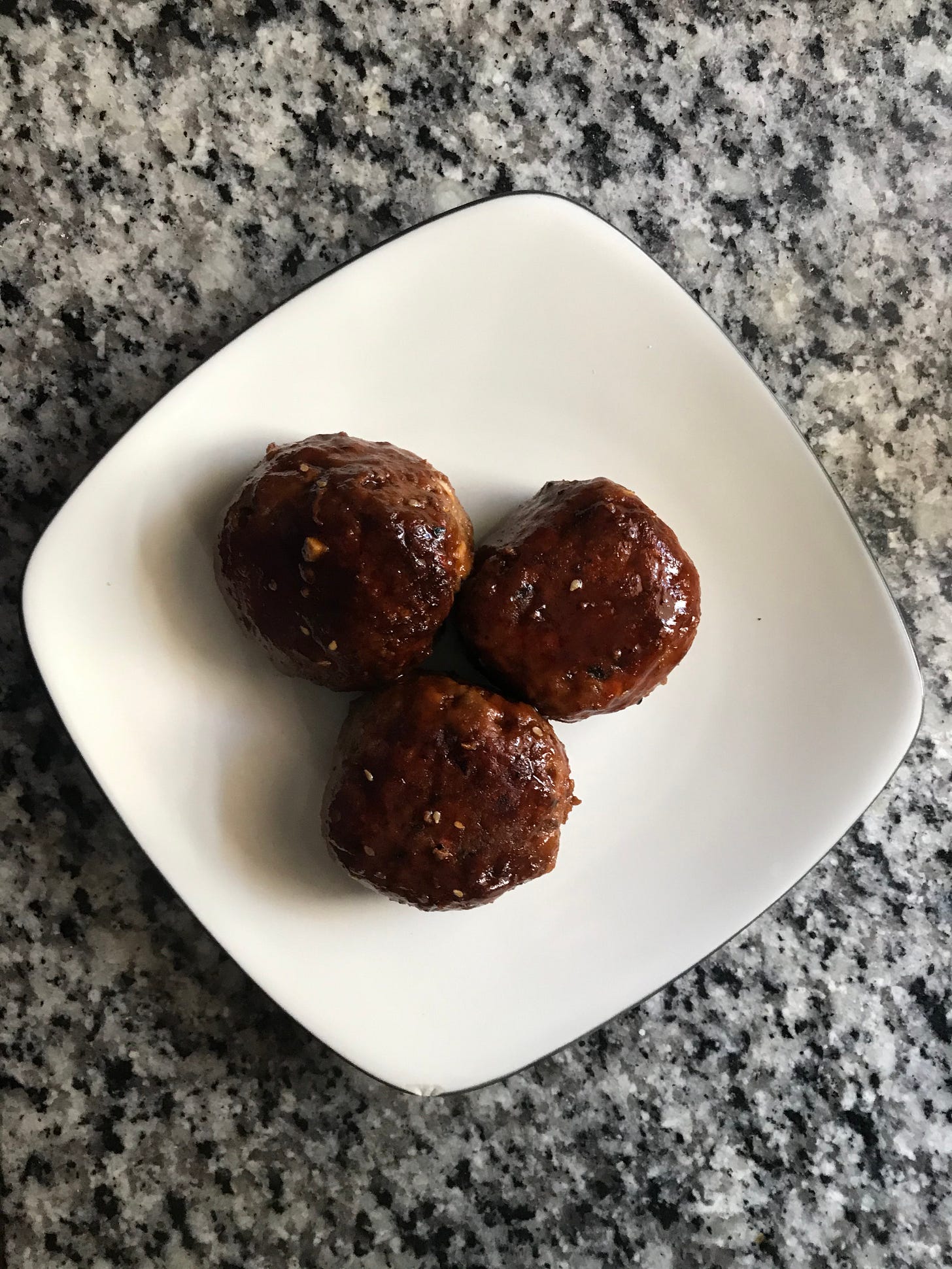 Subscribe to this semi-regular and disorganized newsletter here:
Meatballs are fixtures of dinner tables on every corner of the planet, but I rarely prepare meatballs qua meatballs for a marinara-based pasta dish. My reasons for this are twofold: (1) red sauce meatballs are overplayed at home in the global cuisine market we enjoy today, and (2) marinara flattens the range of flavor one can elicit from a perfectly tasty pound of ground beef or pork — or both.
And so I typically turn my eyes east when preparing meatballs for meatballs' sake, because if I'm working with a medium as versatile as ground beef or pork, a heaping dose of flavor deadlifted by salt, sweet, spicy and umami can elevate a simple meatball to the star of many an Asian-American inspired plate.
I'll here give the recipe just for sweet and spicy meatballs; feel free to pair with whatever noodle or rice foundation you like, because they go well with everything.
---
SWEET AND SPICY MEATBALLS RECIPE (serves 3-6, or one LSU linebacker)
QUICK NOTE: My seasoning measurements are fairly precise approximations; I give and take to a pan based on taste. Therefore, any measure like "4 tbsp soy sauce" really means "either side of 4 tbsp soy sauce, depending on how you feel today." ALL salt and pepper additions are thereby assumed to be qualified with "to taste."
This disclaimer comes in view of my friend Peter Berkes' blog, which I pull from consistently. Peter is very good in the kitchen, and he's taught me a lot.
MEATBALLS INGREDIENTS (preheat oven to 400°F, if you wanna bake them; otherwise see below):
1 lb ground beef or pork (or a 1/2 lb of each), preferred leanness up to you
1 large egg
1/2 cup panko
1 whole carrot, peeled and finely minced (throw in the carrot's greens, also minced, if you've got the tops, just make sure to discard stems; LEAVES ONLY)
3 portobello mushrooms, finely minced (including stems)
1/3 large onion, finely minced
2 garlic cloves, finely minced
1 tbsp soy sauce
1 tbsp sriracha
1 tbsp honey
1 tsp worcestershire
1 tsp mirin (or white vinegar or apple cider vinegar)
Salt and pepper to taste (optional, there's already soy in there, after all)
Massage together THOROUGHLY by hand in a mixing bowl, then separate and form into 10-12 equally sized, joyous meatballs (each about a golf ball in diameter, maybe bigger). Place on a cutting board to flour.

Roll each meatball in a thin coat of all-purpose flour and set aside covered at room temperature. They will be sticky, because, well, honey, but the flour coating will help your sweet and spicy sauce bind to the outside.

(Start up sweet and spicy sauce in the meantime [see below]).

Cook your meatballs exactly as you otherwise would, but make sure to roast slightly beyond a par-cook, since you're going to sim these suckers in a pan with sauce you'll assemble in the meantime. I start my meatballs on the stovetop in a cast iron skillet, then move them to a hot oven. Five minutes one side in a ripping hot cast iron, then flip and transfer to the oven for another 6-8 minutes (400°F). Drop 2 tbsp butter or bacon fat into the pan before you add meatballs. They should have a loud simmer.
Again, though, cook your meatballs as you otherwise would, just make sure to move them to your sauce pan while they're still slightly UNDER. Meanwhile …
SWEET AND SPICY SAUCE (many of these ingredients are repeats from seasonings used above, because you're trying to pick up as many overlapping flavors from meatball to sauce as you can):
While your meatballs are cooking, bring the following up to a slow simmer in a wide stovetop pan; if you have a braiser, use that. Either way, something big with a lid will do the job. You will need a lid.
4 tbsp soy sauce
3 tbsp sriracha
3 tbsp honey
1 tbsp mirin (or whatever vinegar you used above)
1 tsp hot sauce of choice
1 tsp worcestershire
1 tsp brown sugar
1/2 tsp red pepper flake
1/2 tsp sesame seed
Mix well and bring to a slow slimmer. Wait.
FINISH THEM (in a saucepan on the stovetop):
Pull your slightly-north-of-par-cooked meatballs from immediate heat and add to saucepan with simmering sweet and spicy mixture. Aggressively stir, coating meatballs entirely (use sesame seed and chili flake coverage as a rough, eyeball metric). Reduce heat to low and cover for 10-15 minutes, stirring and turning over occasionally. Let rest for five-ish minutes then add to whatever plate you like.