Discover more from Dispatches from Chuck
A semi-regular newsletter from a hirsute Classicist
So I drafted a college football team for 2020 fantasy football: Week 0
This series is nominally about fantasy football. It's more about how some fun recent college players fare in their early years in the NFL.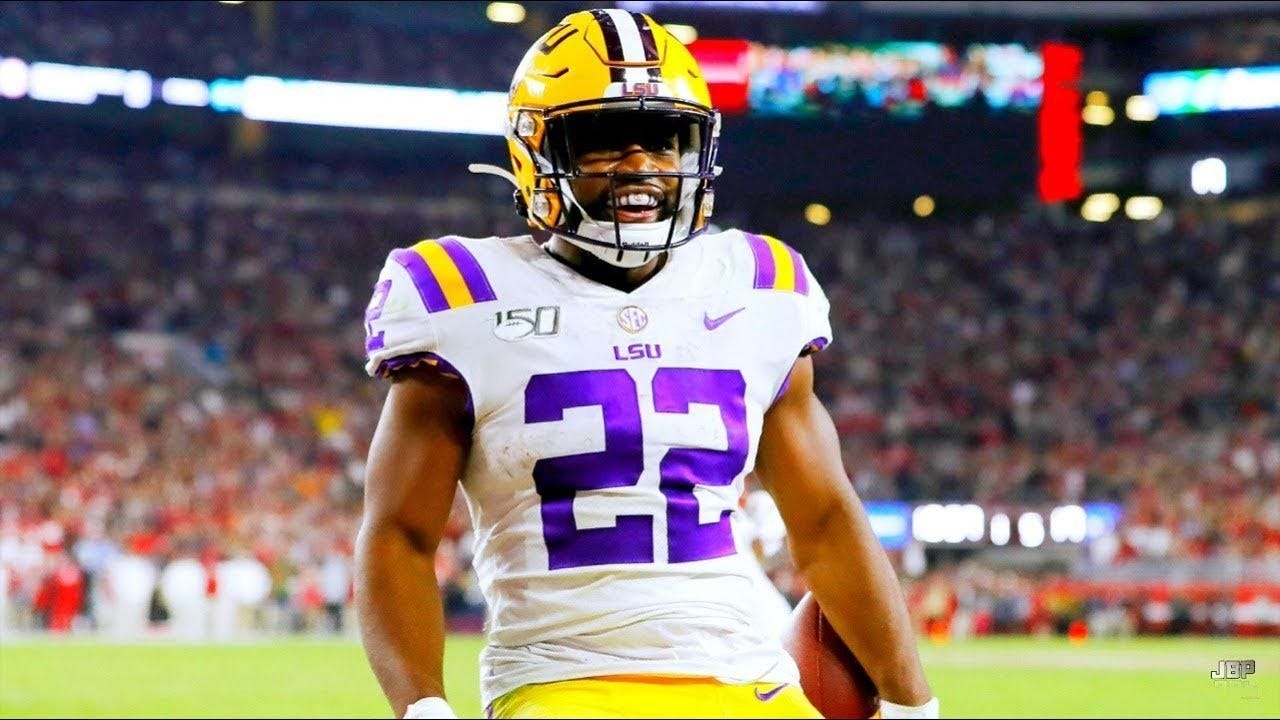 Last year was my first year playing fantasy football. I lucked into Christian McCaffrey as my first-round pick at No. 3, Derrick Henry my second rounder, and Devin Singletary my third rounder. I built up a roster around them, made timely moves as the season wore on, and rode Pittsburgh's DST to a Christmas Eve title, $500 richer.
With great college football lads.
I told a friend in the league that if I won last year's championship, I'd draft an all rookie and sophomore team for 2020, and that's exactly what I did. So this is our journal of a college football team's journey through an NFL season, from the carnivorous fantasy football POV.
OUR TEAM, BECAUSE WE'RE ALL RECENT AMATEURS BUT NOW PROFESSIONALS MAKING MONEY PREVIOUSLY OWED TO US ANYWISE BY ALL WHO SHOULD PAY:
Our team is built around a strong young core that either entered the league upon last spring's draft, or entered the league upon 2019's draft. As the season wears on and weekly waiver-wires open up, I'll do my best to add and subtract players who have been in the league less than or equal to two full seasons, but see below.
We're not so much here to win this 12-team, non-PPR, standard-scoring endeavor as we are to watch and laugh as our youngsters flail through the beginnings of their NFL careers.
OUR TEAM: FERNANDO RODNEY SCOTT'S BBQ
Our team name is a before-and-after joke involving my favorite MLB closer and my favorite Charleston, SC barbecue joint. I changed our name midway through last season and never lost another game, so Fernando Rodney Scott's BBQ is what we're rolling with here in Death World Fantasy Football 2020.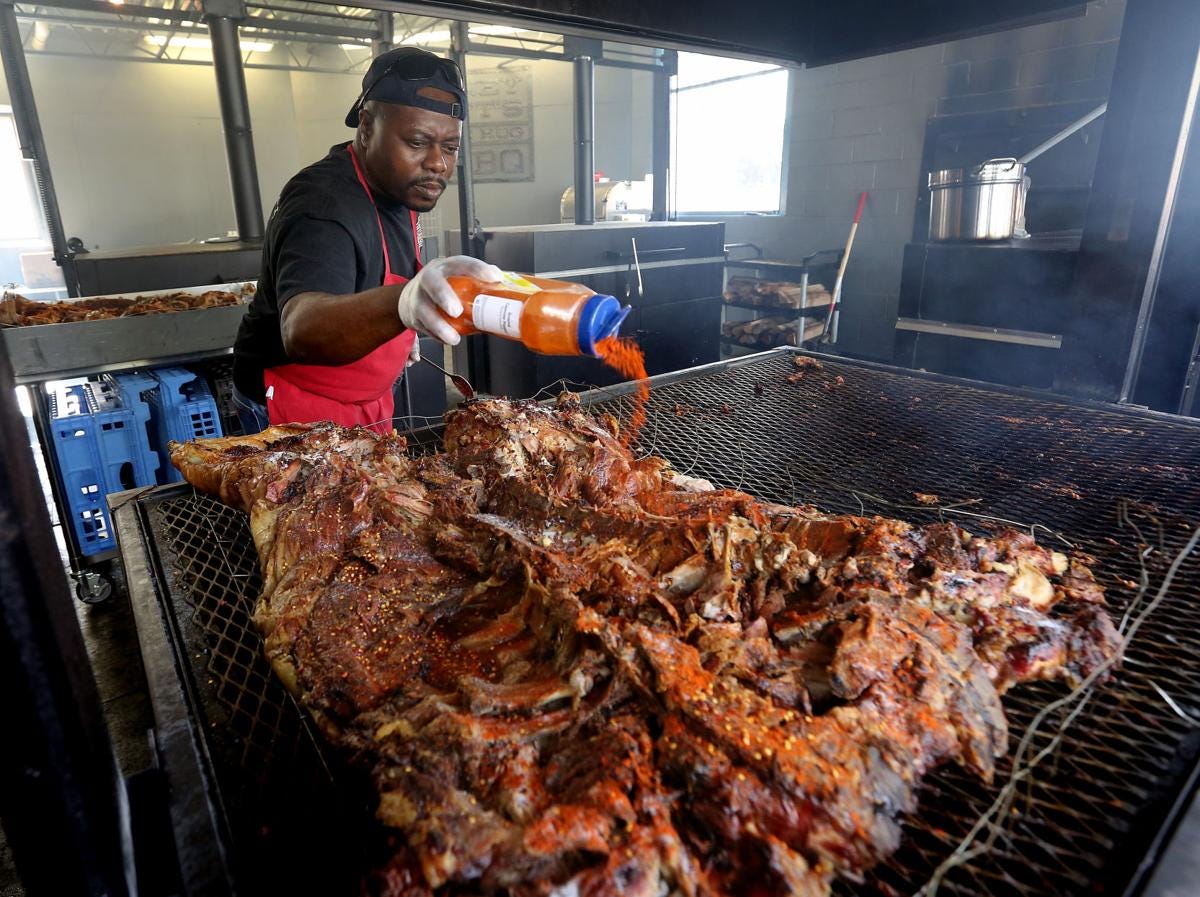 (That's Rodney Scott.)
LEAGUE FORMAT: 12 TEAMS WITH $ 50 BUY-IN; NON-PPR, STANDARD SCORING, VANILLA ALL THE WAY
This is a good boilerplate readout for how these young dudes are faring. No flash points; just yards and TDs. Targets don't even factor into this mathematical mess. Our hope is that they get the ball in their hands and do the rest from there. VOLUME, people, volume.
ROSTER: THE CFP DOESN'T WANT ANY OF THIS MESS
My criteria for drafting were: 1) only rookies and 2) only players in their second year in the NFL. I fucked up and drafted WR Calvin Ridley in the third round (he's in year three), but my league-mates let it slide. Let's call him a graduate transfer.
Here's our Week 1 starting lineup, followed by our talented bench:
QB1: Joe Burrow (LSU > CIN)

RB1: Clyde Edwards-Helaire (LSU > KC)

RB2: Benny Snell, Jr. (UK > PIT)

WR1: Calvin Ridley (BAMA > ATL)

WR2: D.K. Metcalf (Ole Miss > SEA)

TE: Noah Fant (Iowa > DEN)

FLEX: Henry Ruggs III (BAMA > LV Raiders)

DST: Pittsburgh Steelers (#PutPittIn)

K: Younghoe Koo (Georgia Southern > ATL)
Those above are our Week 0/1 starters. Our bench seats are the following:
FLEX: RB D'Andre Swift (UGA > DET)

FLEX: WR Jerry Jeudy (BAMA > DEN)

FLEX: RB Zach Moss (Utah > BUF)

FLEX: RB Alexander Mattison (Boise State > MIN)

FLEX: WR Ceedee Lamb (OU > DAL)

FLEX: WR Tee Higgins (CLEM > MIA)

QB2: Tua Tagovailoa (BAMA > MIA)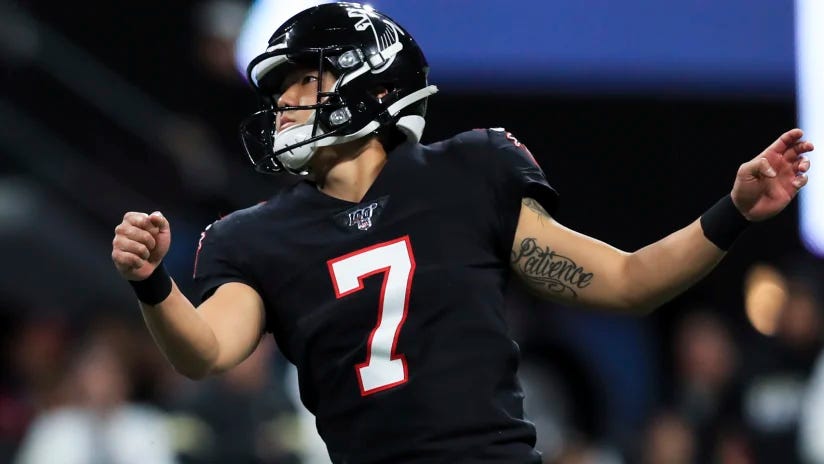 (That's second-year kicker Younghoe Koo, of the Atlanta Falcons. RISE UP.)
NOTES: I missed on a handful of second-year guys like RB Josh Jacobs and WR A.J. Brown because they rightfully played themselves into high fantasy draft positions and were picked just before me.
Drew Lock, a second-year QB, remains on my Watch List, though I don't really trust him because he's Drew Lock, and anyway I've seen a lot of Tua and Burrow tape; they were my priorities at QB.
Burrow gets the starting nod for Week 1 because Miami has like 13 QBs on their practice field right now, and the Bengals have Joe Burrow, who is a rookie, and who was very good in LSU's pro-style offense. I love rooting for the Bengals' offense.
Going to have a beer now; here's to a successful Fantasy Football season not dive-bombed by an idiot picking his favorite college players like me. Good luck!