Discover more from Dispatches from Chuck
A semi-regular newsletter from a hirsute Classicist
So I drafted a college football team for 2020 fantasy football: Week 3
It was a rock fight, but Fernando Rodney Scott's BBQ did it again. Our college football team is 3-0 in NFL fantasy play.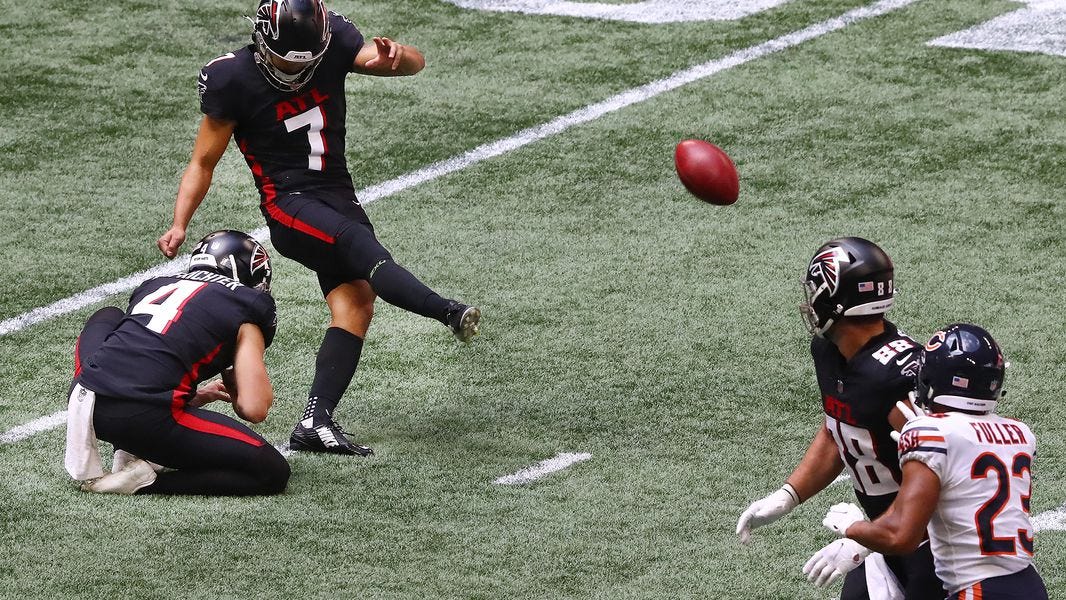 [Wait, what the hell is going on here? We've drafted an all rookie and second-year player centered fantasy football team for 2020. They're doing pretty well.]
Week 3 was a weird damn week in the NFL. Injuries compiled, WR DK Metcalf fumbled an easy TD at the goal line that woulda otherwise netted 13 standard-scoring fantasy points on one play, WR Tee Higgins caught both his first and his second career professional TD passes (on our bench), and K Younghoe Koo, our most consistent scorer, injured his groin. Koo is done for a few weeks.
We still won, though, in a low-scoring, close affair against one of our league's worst teams. WHEW.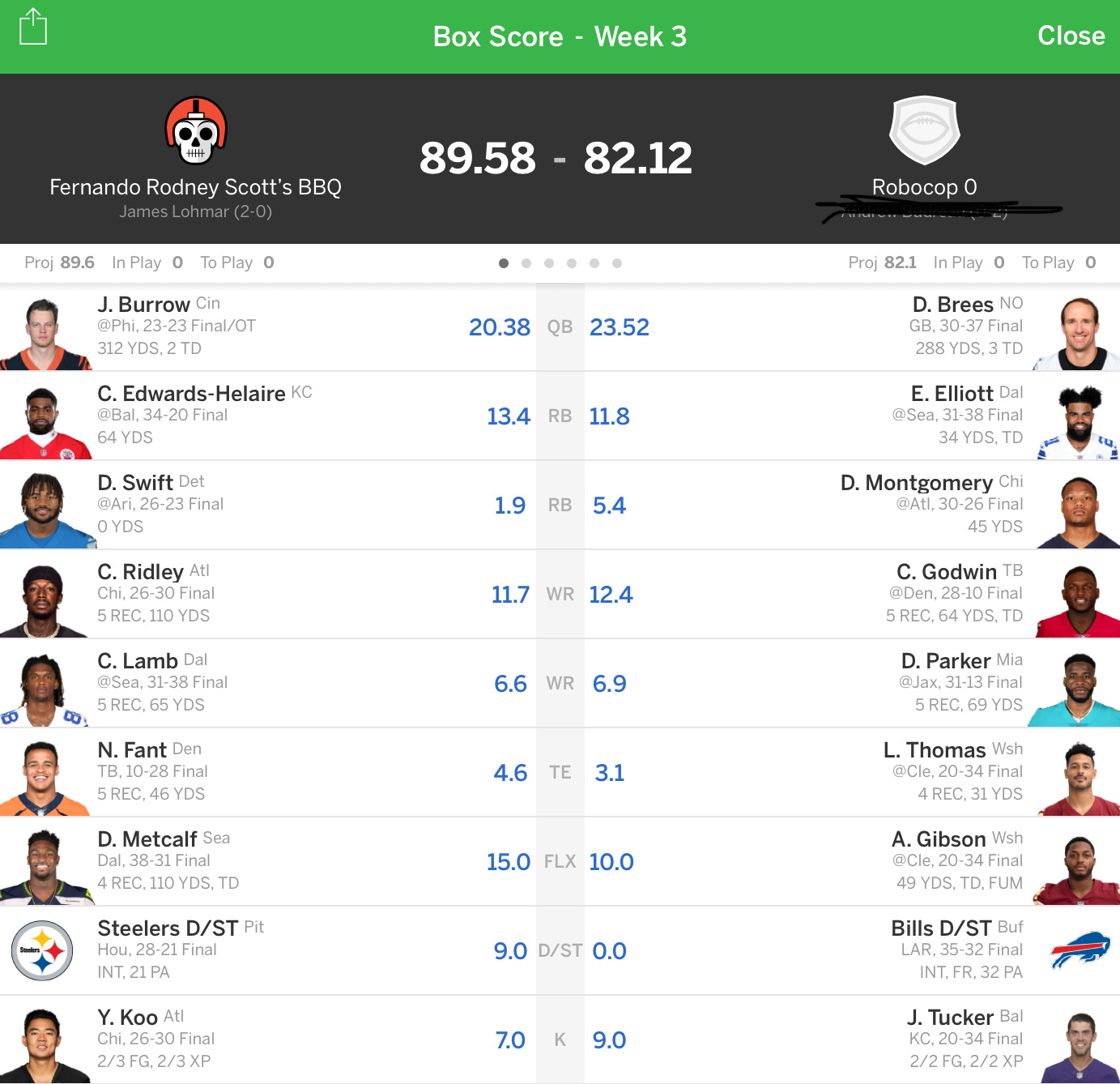 FIRST THINGS FIRST: OUR RELIABLE PERSONNEL
WR Calvin Ridley, DST Pittsburgh, WR DK Metcalf (fumble fuck-up notwithstanding), and QB Joe Burrow, who took a bad shot midway through Sunday's game at Philadelphia that renders his 20+ standard fantasy points remarkable considering what could have happened there. I won't link to video of the hit, because it's gruesome, and the play resulted in a targeting penalty.
CeeDee Lamb got gummed up against a good Seattle secondary; Noah Fant lost his starting QB and now who the hell knows what the starting quarterback in Denver looks like. He's probably tall and white, because [cough JOHN ELWAY] reasons. Fant is an immediate liability for our purposes here, because there aren't many first or second-year TEs out there and available catching passes. In short, the TE volume on the waiver wire in a 12-team league is VERY THIN.
OTHER CONSIDERATIONS: Jerry Jeudy is banged up, as are Henry Ruggs III and RB Zach Moss. We need to offload one or all of them in favor of some other youngster who will see some modicum of volume in future game scripts. Our plan right now is to drop Jeudy for Mecole Hardman (if we can get Hardman), because we no longer trust the passer position in Denver. At least Hardman has Mahomes throwing at him, and not TBD.
RB SITUATION: UM?
Clyde Edwards-Helaire had a decent night on Monday against the Ravens' standup defense. He didn't find the end zone, but Patrick Mahomes found him about the field in a variety of looks that put our diminutive track athlete into space for sizeable gains. He's good, and he'll improve as the season wears on, especially after two tough weeks against the Chargers and Ravens.
Our next biggest question is what to do with the RB2 slot. D'Andre Swift turned in a respectable 7+ fantasy points last week, but was held to just 1.2 FPTS in Week 3. Detroit's backfield is currently a RBBC minefield, and there ain't a replacement option on waivers to fill in Swift's production on a week-to-week basis. Our hope is that Swift will make the best of the touches afforded to him, and he'll remain our RB2 moving forward until someone else emerges as a clear-cut option.
We do still have Benny Snell, Jr. and Alexander Mattison on our bench, both in their second years. We're awaiting a waivers claim involving Zach Moss, also in Year 2, that would drop him in favor of Mecole Hardman (Year 2), because why not pick up some added offense in addition to the other six WRs on the roster. Hardman rules.
INJURY HITS AND ROSTER MOVES: KICKER EDITION
Younghoe Koo of the Atlanta Falcons has injured his groin, which sources tell me is an important muscle group for the action of placekicking in American football. This sucks, because Koo as a fantasy K was averaging double-digit scoring weeks for us leading up to his injury.
Therefore, we're targeting Rodrigo Blankenshipp of the Indianapolis Colts this week on waivers to fill our kicking duties for the foreseeable future. Our reasons for this are manifold:
Blankenship wears hardcore RecSpecs;

Blankenship was a lights-out kicker at UGA the past three years;

Blankenship kicks for a team that will kick a lot;

Blankenship is a pure rookie kicker, which makes him the unofficial mascot of our rookie/sophomore band of brigands.