Discover more from Dispatches from Chuck
A semi-regular newsletter from a hirsute Classicist
So I drafted a college football team for 2020 fantasy football: Week 2
Fernando Rodney Scott's BBQ remains undefeated.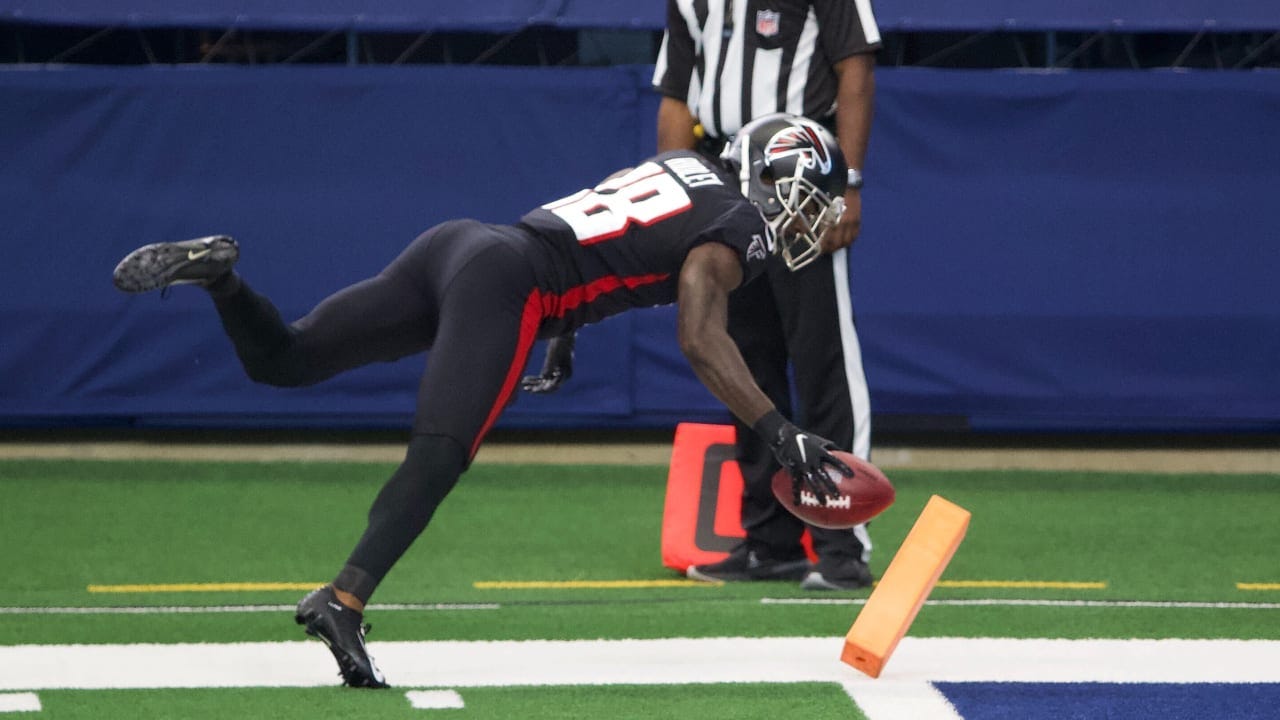 Week 2 saw Fernando Rodney Scott's BBQ up against our league champion of 2018. TEAM LORD had the No. 3 overall pick in this year's fantasy draft, and he selected Saquon Barkley, who's now out for the season with a torn ACL. That is awful news for NFL watchers, because Saquon makes NFL weekends much more entertaining, and those weekends will be lesser for his absence.
Week 2 also saw a spate of injuries across the league, including last year's fantasy high scorer Christian McCaffrey (and former Fernando Rodney Scott's BBQ MVP) go down with a high ankle sprain. CMC is reportedly out for four to six weeks, and that wipes out many fantasy leagues' No's. 1 and 2 overall picks for this fantasy season.
WEEK 2 OUTCOME: SECOND VICTORY IN A ROW, ECLIPSING 130.0 STANDARD-SCORING, NON-PPR FANTASY POINTS, WHICH IS A LOT FOR THIS SCORING FORMAT; WE'RE 2-0 WITH A FULL ASS COLLEGE CREW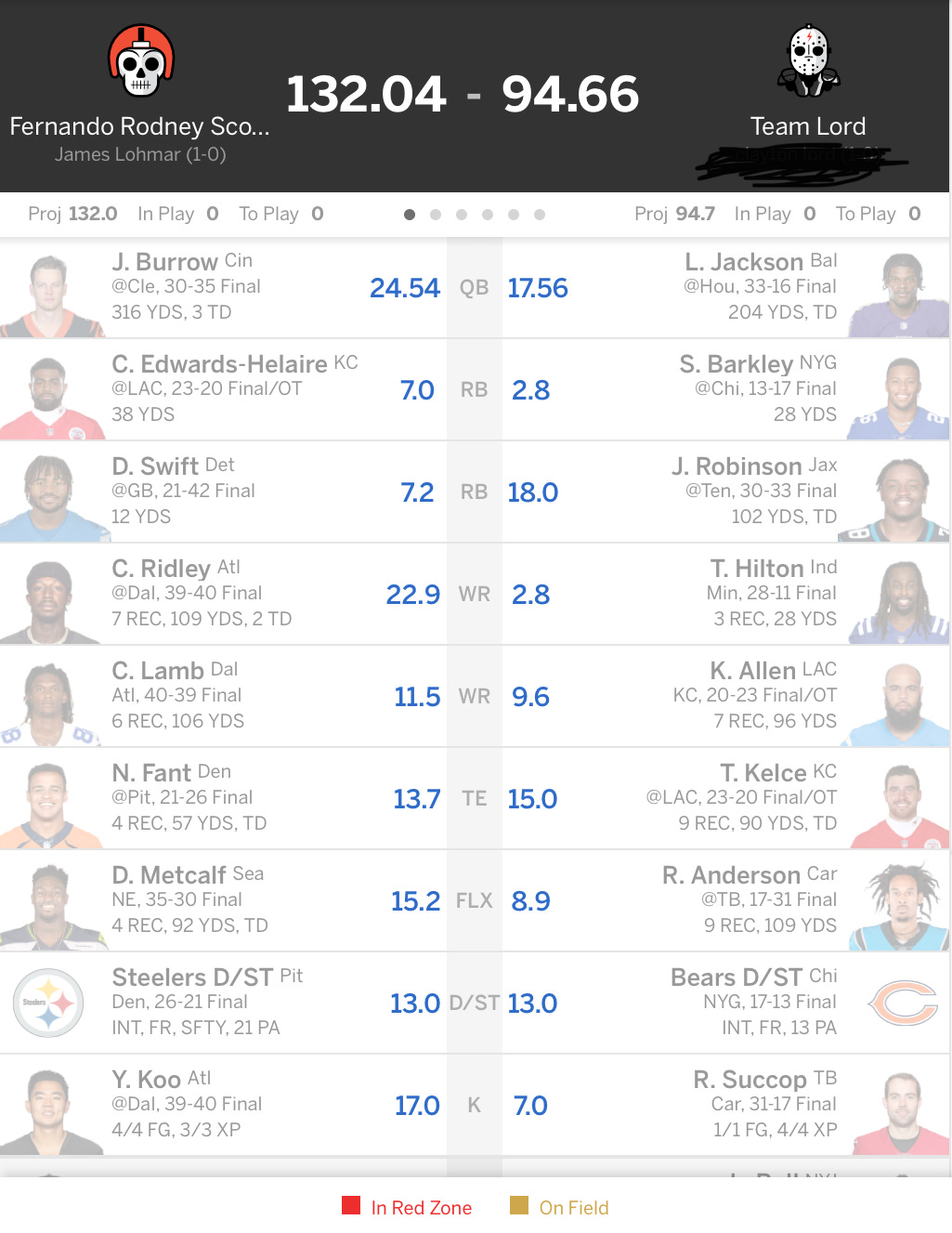 If you checked in with our midweek roster moves, this lineup should look a bit different from that update. I benched Benny Snell, Jr. on Sunday morning after about three days of mulling him over. Denver presented a bad matchup, and James Conner by all media accounts was more or less a full go. Conner had himself a day (18.0+ fantasy points), and Snell scored -1.2 standard scoring points. So we plugged in D'Andre Swift for Snell, shifted up CeeDee Lamb and rode that Falcons-Cowboys scoring party to a strong fantasy floor for the weekend.
In conclusion, our WR corps is young, deep, and catching passes. Ridley is currently the No. 1 overall fantasy receiver in standard, non-PPR scoring formats.
Noah Fant is the No. 2 overall TE in this fantasy format, and DK Metcalf is the No. 3 overall WR. Our kicker, Younghoe Koo, is the No. 1 overall K in his position group, and our DST Pittsburgh currently ranks No. 2. Our roster's background noise remains sound.
CLYDE EDWARDS-HELAIRE CHECK-IN:

OUR FIRST-ROUND PICK

(NO. 2 OVERALL) HAD A DOWN WEEK AGAINST A STOUT DEFENSE; WE ALSO GAINED SOME KNOWLEDGE ABOUT THE CHARGERS' ROOKIE QB, SHOULD WE NEED A NON-JOE-BURROW OPTION
CEH met a real NFL defense with the Chargers in Week 2, and he was by no means featured in Kansas City's offensive scheme. That's fine, and we're not going to panic after a rookie has a down performance in his second professional game. He's still a member of the Chiefs' passing offense, and his opportunities will come.
Anyway, the Chargers' rookie QB Justin Herbert has landed on our radar.
ROSTER MOVES FOR THE WAIVER WIRE: WE'RE GONNA POSSIBLY DROP A QB AND RB, BUT NOT TO WORRY, WE'RE "BUILDING THIS CLUB" WITH OTHER YOUNGSTERS IN YEAR 1 OR 2
It hurts to type this, but we need to temporarily drop Tua from the roster. Ryan Fitzpatrick had a good outing for Miami on Sunday, and a decent showing the week previous, but until he royally fucks up and loses the job, Tua Tagovailoa is sunk cost on a roster that needs as many people with the ball in their hands as possible. For that reason, then, we're targeting Justin Herbert at QB this week on waivers, who turned in an impressive 22.24 fantasy points in an overtime loss for the Chargers on Sunday afternoon. Herbert was good-to-pretty-good at Oregon, his throws are ropes, and he can scoot.
Moving forward, we're going to fiddle with the QB slot on a week-to-week basis in view of our respective guy's matchup. Burrow's good, yes, but his OL is atrocious and a real liability for his fantasy value. Jalen Hurts also remains unrostered in the league and active, so we're adding him to the Watch List.
Our final roster move on the waiver wire concerns Darrell Henderson (MEM > LAR), who's in Year 2 and finds himself now as the feature back in Los Angeles' depleted backfield. He flew under the radar at Memphis in the college game, but this Ole Miss fan will tell you that Henderson can fly. Our hope is that our league opponents let him slip past their notice and that we can acquire him while giving up RB Alexander Mattison, who's playing second fiddle to Dalvin Cook for the foreseeable future.
Fernando Rodney Scott's BBQ remains atop the total points scored ranking in our league.