Discover more from Dispatches from Chuck
A semi-regular newsletter from a hirsute Classicist
So I drafted a college football team for 2020 fantasy football: Week 1
Fernando Rodney Scott's BBQ can actually hold its own. #CHAOSTEAM.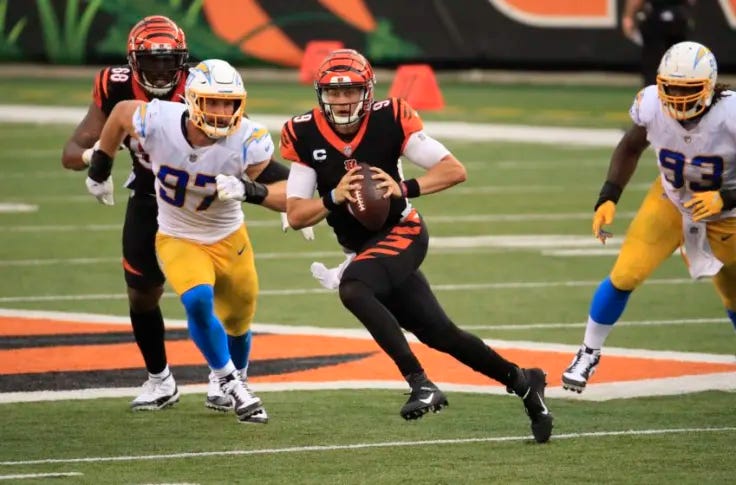 UNANNOUNCED BUT IMPORTANT UPDATE:
We won our Week 1 matchup in convincing fashion, 124+ fantasy points to 110.0 (this is also the highest score achieved in our league for Week 1; we are the best team in the league). This is entirely surprising for your writer and our league writ large (see below for individual player accolades). We threw out a roster of largely untested rookies and second-year guys, and they played excellent football. Also, Calvin Ridley is a receiving beast.
AND ON TO OUR WEEKLY BREAKDOWN: VIKINGS' DST JUST WENT IN THE POISONED WELL. GOOD GOD MINNESOTA WAS BAD.
This week, our college team was up against some real NFL talent, but not to worry, we can rely on [squints at notecard] the Raiders' and Falcons' play-calling, for what that's worth.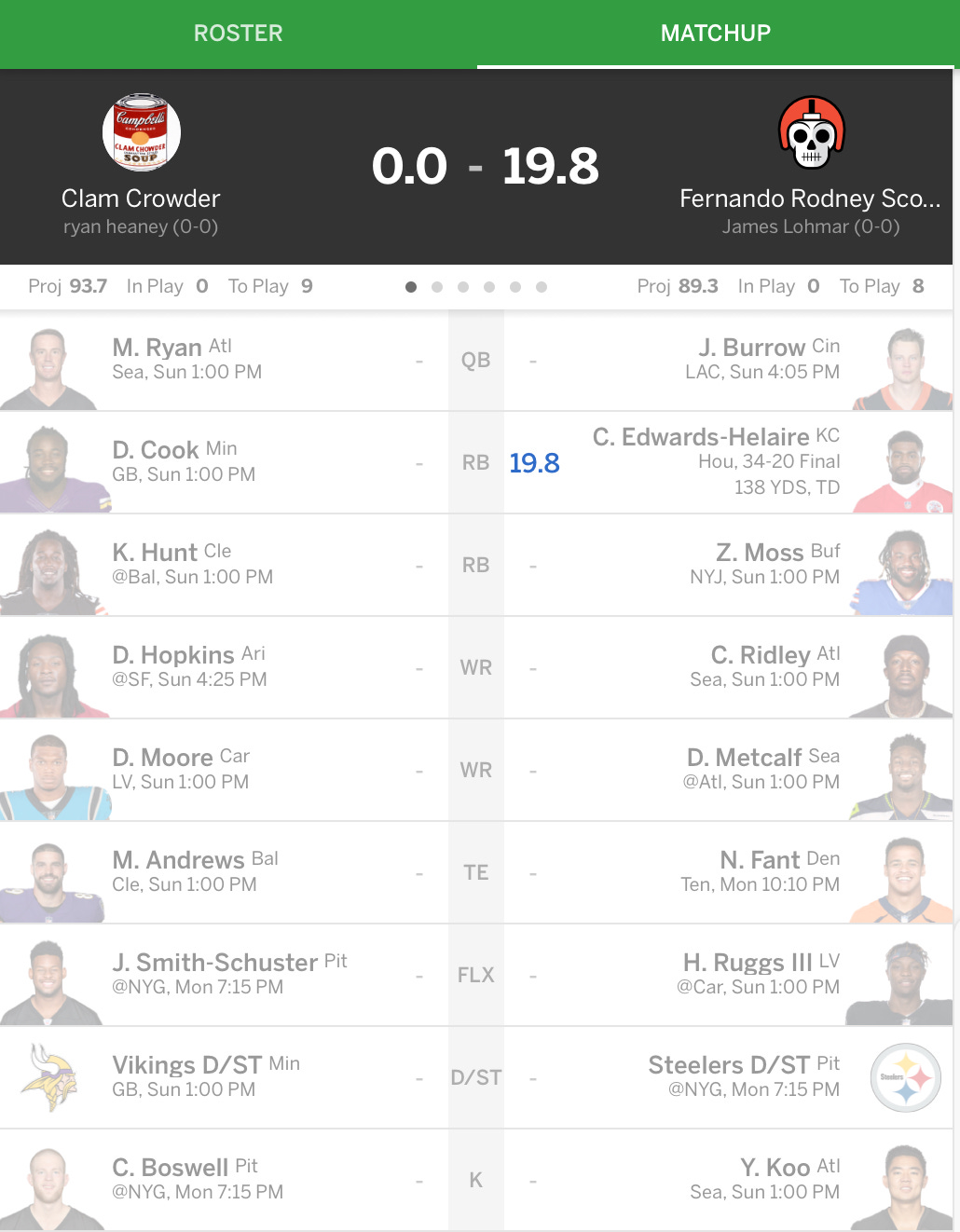 (Our starting roster for Week 1 is at right; screenshot taken after conclusion of Thursday night game.)
Quick housekeeping: our college lads' 2020 fantasy football update will typically publish on Wednesdays this season, after Tuesday waiver-wires open and we've concretized our weekly roster moves.
[What the hell is going on here? We're running a college football team for 2020 fantasy football. Our draft and roster information is available here.]
OUR MATCHUP (STARTING LINEUPS AT TOP): REMATCH OF LAST SEASON'S CHAMPIONSHIP GAME.
Without going too far into ancient history, Fernando Rodney Scott's BBQ won the 2019 fantasy football season in its inaugural year. We beat the above Clam Crowder by a grand total of 2.7 standard fantasy points on Christmas Eve and put our $500 winnings towards holiday gifts. And beer. And Van Gogh double espresso vodka. A lot of this latter, in fact.
So it's fitting that Week 1 of 2020's Death World Fantasy Football season kicks off with a rematch of last year's championship game. Let's not lie to ourselves: we're up against some stout competition. Matty Ice is consistently a good-to-goodish fantasy QB, and Dalvin Cook finally settled a contract dispute with MIN, so he's a full go with full volume to be expected.
We're also staring down freshly paid Kareem Hunt and DeAndre Hopkins in new offensive systems, which seems bad for our Week 1 chances, but at least Hunt plays for the Browns, who are playing against Baltimore's DST, and the Browns are the Browns (bad).
OPTIMISM?: Clam Crowder is starting JuJu Smith-Schuster at the FLEX position, who was last season's biggest bust. Let's hope to gain points in the void that JuJu leaves open. In related optimism news, let's check in on our No. 1 draft pick and 2020 rookie of the year …
CLYDE EDWARDS-HELAIRE CHECK-IN: OUR FIRST-ROUND DRAFT PICK HAD HIMSELF A NIGHT ON THURSDAY.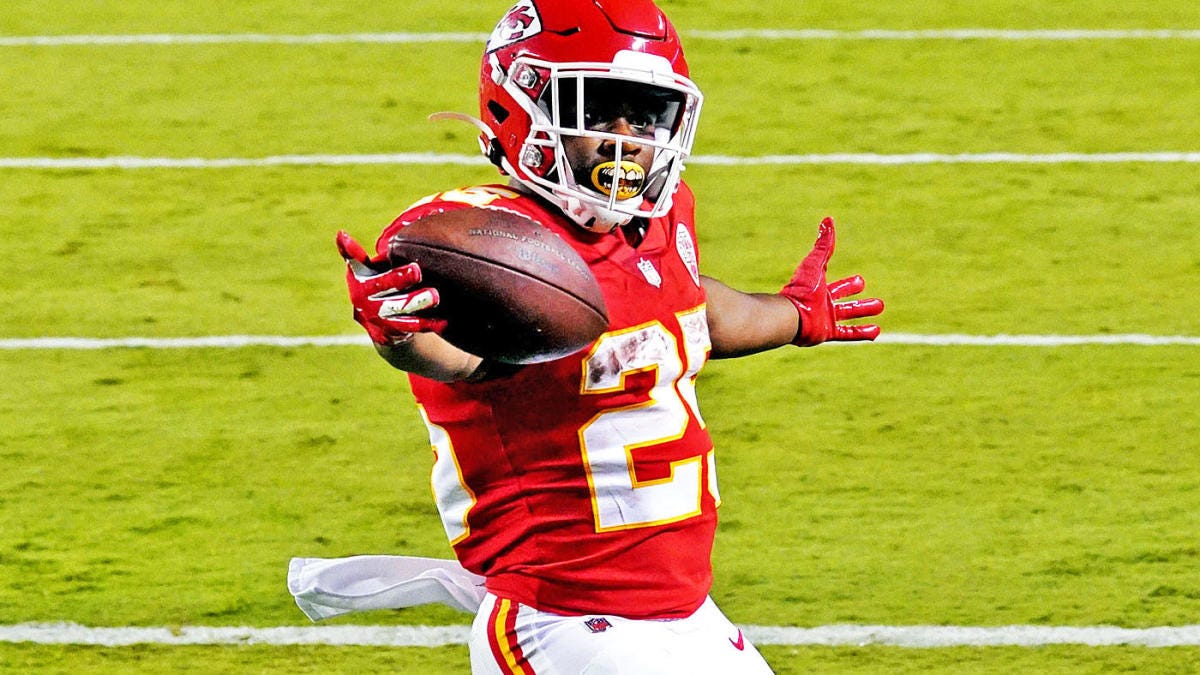 The contingencies of fantasy football attach as much to scheme and play-calling as to any other force in an NFL game, and CEH's debut boded mixedly from the start. Andy Reid dialed up two handoffs in a row to start KC's first drive of the season, and Clyde dove forward on both for three-yard gains apiece. He saw the ball just once more in the first quarter and only started to find his stride in the middle stretch of the second period. He ripped off a handful of 10-yard gains and logged 6.4 non-PPR points in his first half of his fantasy football presence.
And then KC's offensive play-callers opened him up a bit in the third quarter, as he scored his first professional touchdown on a 40+ish yard rush. This score was both a function of KC's offensive scheme and OL as CEH's downhill power between the tackles, because this was a weight room TD. Anyway, Clyde gifted us 19.8 non-PPR fantasy points up front on Thursday night. A great fucking start, and a positive reinforcement that we made the right decision in Round 1 of the draft.
QUICK NOTE: DRAFTING A FULL ROSTER OF ROOKIE AND SOPHOMORE NFL PLAYERS ENTIRELY BLOWS UP A 12-TEAM FANTASY DRAFT.
It should come as no surprise that the other 11 teams in our league are more stacked than otherwise in a 12-team fantasy effort. I essentially swept off the dust from the floor of every sequential round, but ended up with a respectable roster nonetheless. CEH is a hands-down first-round dude, and the Falcons needed Younghoe Koo in volume last season. Koo's Week 1 output was therefore expected, though missing an extra point but making two FGs of 40+ yards is a touch questionable. College football shit, y'all.
DK Metcalf and Calvin Ridley are locks as high-round WR options. CeeDee Lamb, Tee Higgins, and Jerry Jeudy are all talented but buried under loads of depth chart talent, respectively. Same goes for D'Andre Swift and Alexander Mattison. Hopefully we find better usage elsewhere on the roster.
OUR DUMBASS QB IS JOE BURROW: HE SUCCEEDED AT LSU IN A REAL AND GOOD PRO-STYLE OFFENSE. NOW HE PLAYS FOR THE BENGALS.
Our receivers and skill players showed out. Henry Ruggs (before an injury), DK Metcalf, and Calvin Ridley especially blew up their WR scoring. Calvin Ridley, our graduate transfer, is in year three and he's gashing opponents.
But we're here to talk about Joe Burrow, savior of LSU football and scion of Cincinnati. He threw up an INT, sure, but he rushed for a TD on 193 yards of passing, which held up his floor to the tune of 16.32 non-PPR fantasy points. Not bad for the rookie, especially since we were up against Matt Ryan, who turned in a rather pedestrian 23.9-point fantasy effort. (The Falcons lost, BTW.)
SURPRISES ELSEWHERE: OH, THERE ARE MANY.
Calvin Ridley was outstanding at Alabama. He consistently worked his way into the Atlanta offense over the past two years and here in Year 3, he appears poised to share gashing duties with Julio Jones. ALABAMA WIDEOUT CORE, PAAAWWWLLL.
Anyway, Ridley is clearly our team's Most Important Player in Week 1, though CEH at least deserves a nod as Dude Who Will Show Up To Work. DK Metcalf picked up where he left of last season and hauled in his baseline volume, while rookie flier decision Zack Moss contributed an acceptable 8.7 non-PPR points as our RB2. It's also encouraging to see Henry Ruggs featured in the Raiders' offense so early (6.6 points), while D'Andre Swift (8.3 points) and Alexander Mattison (8.0 points) sat on the bench with respectable outputs themselves.
Kicking ourselves: This week's major starting roster decision came down to Benny Snell, Jr. or Zack Moss at the RB2 slot, and I threw Moss in at the last minute, because Pittsburgh seemed to prefer James Conner as the three-down back. Well, that's my mistake because Snell was this week's Most Productive Player On The Bench, and indeed he tallied up some impressive garbage time yardage (11.3 fantasy points, our highest scorer among benched players).
Snell will be a situational decision moving forward, but at least he's on our roster, pissing outta the ship instead of pissing in.
SO, IN SUM: WE WERE PROJECTED TO LOSE BY MORE THAN 20 FANTASY POINTS, BUT WE IN FACT WON, 124.92-110.0; WE HAD THE HIGHEST TOTAL GAME SCORE IN OUR LEAGUE, WITH A BUNCH OF YOUNG SCRUBS.
ALSO, HOW DOES MINNESOTA'S DEFENSE LOG -9 FANTASY POINTS IN A SINGLE AFTERNOON?
Our matchup was over at 10:05 p.m. EDT. JuJu Smith-Schuster had a comeback night for the ages (18.9 points), and PIT kicker Chris Boswell turned in a respectable nine-point night, but after the first Monday night game's final whistle, Fernando Rodney Scott's BBQ had an observable lead, 110.82-110.0, with one player left to go (our TE, Noah Fant [DEN]). We were playing with house money at that point.
The real tables-turner here was Minnesota's abysmal defensive outing. Yes, they gave up a lot of points, but it's still somewhat confusing how a fantasy DST drops from 10 starting points to -9 points at game's end. If anyone understands the arcane math that goes into calculating fantasy defense points, please sounds off in the comments, or on Twitter, or in my cursed email inbox.
SO: FERNANDO RODNEY SCOTT'S BBQ ROOKIE AND SOPHOMORE FANTASY TEAM IS UNDEFEATED THUS FAR, WITH THE HIGHEST POINT TOTAL FOR WEEK 1 IN THE LEAGUE. WE ARE UNSTOPPABLE, AND BENNY SNELL SAT ON OUR BENCH THE ENTIRE WEEKEND. THAT WILL CHANGE.
Anyway, that 19-point swing is what secured our Week 1 victory. Thank you, Vikings defense, for fucking up royally.