So I drafted a college football team for 2020 fantasy football: Week 2 roster moves
Fernando Rodney Scott's BBQ made no claims at the Week 2 waiver wire.
(Pittsburgh Post-Gazette)
Last week's surprise 124.92-110.0 trouncing of Clam Crowder was an encouraging development in our youngsters' young season. In what was a rematch of last season's fantasy football championship game, Fernando Rodney Scott's BBQ achieved the league's highest point total.
We should certainly thank WR1 Calvin Ridley (24.9 points) and RB1 Clyde Edwards-Helaire (19.8 points) for their contributions, and we could have eclipsed nearly 130.0 standard-scoring points if not for a game-ending offensive PI call on a touchdown toss from Joe Burrow to A.J. Green that was called back. Burrow ended Week 1 with 16.0 non-PPR points. No disaster, but some room for improvement.
In our preparation for Week 2, then, we're making two significant roster moves that will hopefully pay off by close of business Monday night. To reiterate, we decided to stay away from the waiver wire this week, and really for two reasons: (1) we're healthy across the roster — with the possible exception of Henry Ruggs III; and (2) hitching your wagon to first and second-year guys renders that set of players on waivers a more risky bet than we're willing to take right now.
We drafted this crew, so let's roll with this crew until wheels start falling off the team bus.
WEEK 2 ROSTER UPDATES AND MATCHUP PREVIEW, WITH THE GOOD GUYS LISTED AT LEFT: AS MUCH AS THE FALCONS LOVE BAMA WIDEOUTS, FERNANDO RODNEY SCOTT'S BBQ LOVES BAMA WIDEOUTS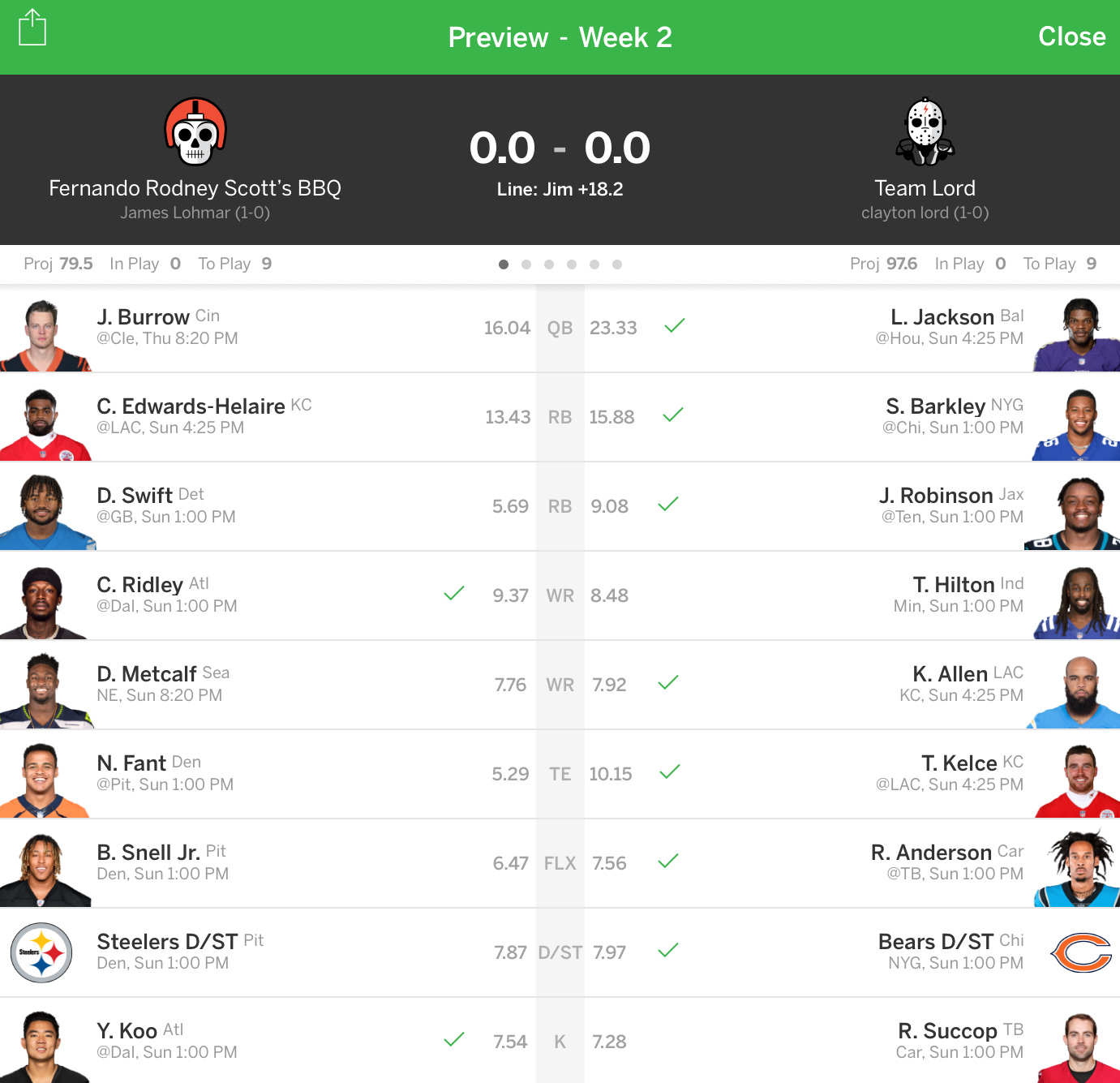 On paper, this should be a blowout. Team Lord consistently fields a bang-up crew — he won this league two years ago — and with Lamar Jackson sitting at the top of his lineup, followed by Saquon Barkley and Travis Kelce further down, we clearly have our work cut out for us. But for this season and our purposes locally, projected final scores mean nothing. In Week 1, for instance, we didn't pull ahead until the end of the 4:00 p.m. Sunday games and never looked back.
QB POSITION: Burrow remains our only rostered QB expected to play as Tua Tagovailoa continues to sit as understudy to Ryan Fitzpatrick. We're still keeping eyes on Drew Lock and Gardner Minshew on the waiver wire, but out of a sense of duty to the reigning CFP national champ, and because Burrow's helming an offense against the Browns in Week 2, he's still our man. (Side note: it's nice to see WR John Ross emerging as a viable second option at WR in Cincinnati, because John Ross was amazing at Washington, and if he lands on the waiver wire at some point this season, we may have to break protocol and pick up a second player in Year 3.)
RB1 AND RB2 POSITIONS: We drafted CEH to do what he did on the season's opening night. We're starting him as RB1 without a whit of hesitation.
The RB2 slot is bit more tricky. Last week we threw Zach Moss (BUF) out there and he collected 8.7 respectable points, including a TD reception from the four yard line. That decision came at the expense of Benny Snell Jr. (PIT), who racked up 11.3 points on the bench, and DeAndre Swift, who garnered 8.3 while also sitting; Swift in particular is interesting because that 8.3 could have just as easily been 14.3 points, but our man from UGA dropped a game-winning TD reception at the goal line.
Needless to say, our victory didn't hinge on this trio of RBs, and we would have won with any of them subbing in at the RB2 line, but now we're a week into the season and some immediate pictures are coming into focus.
Snell: we relegated him to the bench in Week 1 on the assumption that James Conner was going to command RB1 duties in Pittsburgh. That's certainly how Conner's usage began on Monday night, but he apparently tweaked an ankle in the early going, and so Mike Tomlin handed those snaps over to Snell, who had a career night in both attempts and yards gained. With Conner potentially banged up and seeing limited minutes, then, Snell becomes an easy plug-and-play at the FLEX spot for Week 2. His isn't the most favorable matchup (DEN), but the game is in Pittsburgh and both clubs will be working on short rest.
Swift: some apprehension comes with subbing him in at the RB2, since Detroit's backfield is still very much a RBBC effort. His Week 2 starting spot is therefore something of a dart throw, but he at least split fairly evenly his snap counts with Kerryon Johnson (who's bad) and Adrian Peterson (who's old) in Week 1.
WR POSITION: Here's where things get even more tricky. As it is now, we're planning to run three RBs out there this week, with CEH, Swift, and Snell (FLEX). So the only real decision to be made is whether to bump Snell up to RB2, bench Swift, and sub one of our FOUR available WRs into that FLEX position. Our WRs currently sitting on the bench are:
Henry Ruggs III (6.6 points in Week 1), vs. NO Week 2

Jerry Jeudy (5.6 points in Week 1), at PIT Week 2

CeeDee Lamb (5.9 points in Week 1), vs. ATL Week 2

Tee Higgins (0.0 points in Week 1), at CLE Week 2
Ruggs: potentially a bad matchup against the Saints, and he appeared to tweak his ankle in the first half of Saturday's game and didn't log a reception after that.
Jeudy: target share will be an issue here, and Pittsburgh's front seven will likely make life hell for Drew Lock, the man tasked with throwing to him.
Lamb: decent matchup with the Falcons in Dallas, but depth chart and target share are also worry points; for all the Cowboys' disfunction in Week 1, this still is a potent offense with three guys in front of Lamb at the WR feast; if we are gonna throw a WR back into the FLEX spot and bench Swift (unlikely), Lamb will probably get the call-up out of this group.
Higgins: played limited snaps (14) with no targets, but wasn't relegated to special teams duties, which bodes well for his incorporation into the CIN offense; Thursday will be an audition for how we feel on the rookie out of Clemson, with all the usual Browns-as-fantasy-opponent-related caveats.